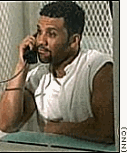 IN MEMORY an einen Jungen, alt genug zum Sterben?

Nach sieben Jahren Todestrakt richtete Texas Napoleon Beazley # 999141 hin.

Seinem letzten Statement,... was kann man dem hinzufügen?
...es tut mir leid,
dass ich hier bin. Es tut mir leid, dass sie alle hier sind. Es tut mir leid, dass John Luttig gestorben ist. Und zuallererst tut es mir leid, das es etwas in mir gab, dass das verursachte.

Heute Nacht zeigen wir der Welt, dass es in den Augen der Justiz keine zweite Chance gibt...Heute Nacht zeigen wir unseren Kindern in gewisser Weise, das Töten in manchen Fällen richtig ist.
Dieser Konflikt verletzt uns alle, es gibt keine SEITEN. Die Menschen, die diese Prozedur befürworten, denken, dass es Gerechtigkeit ist. Die Menschen, die denken, das ich leben sollte, denken, dass es Gerechtigkeit ist. So schwierig es scheinen mag, es geht um einen Konflikt von Idealen, in dem jeder tut was er für richtig hält. Aber wer liegt falsch, wenn wir am Ende alle Opfer sind?

In meinem Herzen glaube ich, dass es einen friedvollen Kompromiss für unsere Ideale gibt. Es macht mir nichts aus, wenn es keinen für mich gibt, solange es für jene ist, die kommen werden. Es gibt eine Menge Männer wie mich im Todestrakt -gute Männer- die über die gleichen fehlgelenkten Emotionen stürzten, aber das möglicherweise noch nicht erkannt haben so wie ich.
Gebt diesen Männern eine Chance, das Richtige zu tun. Gebt ihnen eine Chance, ihre Fehler wieder gut zu machen. Viele von ihnen wollen wieder gut machen, was sie angerichtet haben, aber wissen nicht wie. Das Problem ist nicht, dass die Menschen nicht willig sind, ihnen da heraus zu helfen, liegt jedoch im System, das klarmacht, dass es überhaupt keine Rolle spielt.
Niemand gewinnt heute Nacht. Niemand findet heute einen Abschluss. Niemand geht siegreich davon.

FINAL STATEMENT OF NAPOLEON BEAZLEY, TDCJ EXECUTION #999141:
The act I committed to put me here was not just heinous, it was senseless. But the person that committed that act is on longer here -- I am.
I'm not going to struggle physically against any restraints, I'm not going to shout, use profanity, or make idle threats. Understand though that I'm not only upset, but I'm saddened by what is happening here tonight. I'm not only saddened, but disappointed that a system that is supposed to protect and uphold what is just and right can be so much like me when I made the same shameful mistake.
If someone tried to dispose of everyone here for participating in this killing, I'd scream a resounding, "No." I'd tell them to give them all the gift they would not give me ... and that's to give them all a 2nd chance.
I'm sorry that I am here. I'm sorry that you're all here. I'm sorry that John Luttig died. And I'm sorry that it was something in me that caused of this to happen to begin with.
Tonight we tell the world that there are no second chances in the eyes of justice ... Tonight, we tell our children that in some instances, in some cases, killing is right.
This conflict hurts us all, there are no SIDES. The people who support this proceeding think this is justice. The people that think I should live think that is justice. As difficult as it may seem, this is a clash of ideals, with both parties committed to what they feel is right. But who's wrong if in the end we're all victims?
In my heart, I have to believe that there is a peaceful compromise for our ideals. I don't mind if there are none for me, as long as there are for those who are yet to come. There are a lot of men like me on death row -- good men -- who fell to the same misguided emotions, but may not
have recovered like I have. Give those men a chance to do what's right.
Give them a chance to undo their wrongs. A lot of them want to fix the mess they started, but don't know how. The problem is not in that people aren't willing to help them find out, but in the system telling them it won't matter anyway.
No one wins tonight. No one gets closure. No one walks away victorious.
(source: Huntsville Item)

A Double Life - July 2005
Napoleon Beazley was executed by the state of Texas, but he lives again in a new play
BY BARRY PINEO

The death of the Man-child, too young to die
by Farley C. Matchett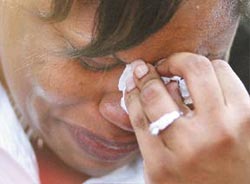 On May 28th, Texas executed my friend Napoleon Beazley. He used to call me "Unc", which is short for "Uncle" and I called him "Nephew".
I met him in 1995 when he first arrived to death row. A polite, courteous and intelligent young man who smiled and everyone. His very presence radiated a glow of positive energy all the time and in all my time of knowing him, he never said a harsh word toward anyone and I never ever saw him angry. To know him, was to love him…. A man-child destined for greatness, cut down in his youth by a murderous system that's set on damnation retribution and Southern styled justice. He was such a beautiful spirit and I wish each one of you reading this could have met him at least once.
Nephew was very well schooled in philosophy and disciplined by the old ways by his Parents, Mr. and Mrs. Beazley. He was a "yes sir thank you" type of young man, who would give his last to anyone in need.
Beyond being Nephew, he was like a little brother who I'll always love and cherish. The man-child has been abruptly taken away from us. With him, he has taken a chunk of my heart, but held fast are the precious memories of the many laughs shared between us. The memories of his silly antics of wearing those ugly rubber boots all the time and how we'd laugh about it. The times we played countless hours of basketball or just sat around discussing life. Nephew arrived to death row 3 days before his 18th birthday…. A mere man-child.
Many people around the world pleaded for his life such as Nobel Laureate Desmond Tutu, Mexico ambassador Juan José Bremer Martino, the European Union, the American Bar Association, the N.A.A.C.P. and the International Socialist Organization, along with Amnesty International. He was a class president, highly successful athlete, very articulate and extremely intelligent. A young man very much liked all over town, a man who is a prime candidate for rehabilitation that could have re-entered society in a positive way. Here is a kid who merely made a mistake. I am in no way forgetting what he did to arrive at this point, but merely stating that somewhere along the way we need to bridle this unabashed vengeance because we are killing juveniles. Nephew has always admitted his guilt and did so up until his death. The man-child who acknowledges his mistakes with his last breath, taught us that there is a lesson in dying. Rest on Nephew, till we meet again.
Peace
Farley
2002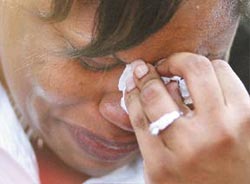 Tod eines Kind-Mannes, zu jung zum Sterben

von Farley C. Matchett

Am 28. Mai wurde mein Freund Napoleon Beazley hingerichtet. Er nannte mich "Unc" ("Onk"), die Kurzform von "Onkel" und ich nannte ihn "Nephew" ("Neffe").

Ich traf ihn 1995 als er im Todestrakt ankam. Ein höflicher, freundlicher junger Mann der jeden anlächelte. Seine Gegenwart strahlte jederzeit positive Energie aus und all die Zeit, die ich ihn kannte, äußerte er sich nie barsch gegenüber irgendjemandem oder war ärgerlich. Ihn zu kennen bedeutete ihn zu lieben. Ein Kind-Mann für Größe beabsichtigt, Sie beenden seine Jugend durch ein mörderisches System, das auf verdammte Vergeltung setzt, und eine im Süden entworfene Gerechtigkeit ist. Er war so ein schöner Geist, und ich wünschte jeder Leser hätte ihn wenigstens einmal getroffen.

Nephew war sehr gut gelehrt in Philosophie und von seinen Eltern auf dem alten Weg erzogen worden, von Herrn und Frau Beazley.

Er war ein "yes Sir thank you" Typ von junger Mann, der sein Letztes gab für jemanden, der es brauchte.

Außer ein Neffe zu sein war er auch ein kleiner Bruder, den ich immer lieben und behüteten werde. Dieser junge Mann wurde uns abrupt entrissen, und mit ihm nahmen sie mir ein Stück aus meinem Herzen, aber ich halte fest, die letzten Erinnerungen zwischen uns, wie wir zusammen gelacht haben. Die Erinnerungen von seinen albernen Eskapaden, vom Tragen immer jener hässlichen Gummi-Stiefel und warum wir darüber lachen würden. In den Zeiten, spielten wir unzählige Stunden Basketball oder saßen einfach um über das Leben zu diskutieren. "Nephew" kam im Todestrakt, 3 Tage vor seinem 18 Geburtstag an…. Ein bloßes männliches Kind.

Viele Leute in der Welt -bitteten um sein Leben, wie Nobelpreisträger Desmond Tutu, Mexiko Botschafter Juan José Bremer Martino, die europäische Gemeinschaft, der amerikanische Verband, der N.A.A.C.P. und die Internationale Sozialistische Organisation, zusammen mit Amnesty International. Er war ein Schulsprecher, sehr erfolgreicher Athlet, sehr klar und äußerst intelligent. Ein junger Mann sehr gemocht überall in der Stadt, ein Mann, der ein bevorzugter Kandidat für Rehabilitation ist, der die Gesellschaft auf eine bestimmte Weise hätte wieder betreten können. Hier ist ein Kind, das bloß einen Fehler machte. Ich bin auf keine Weise einer der das vergisst, was er machte, um an einem solchen Punkt anzukommen.

Aber nur bloßes Behaupten, wir müssen diese unerschrockene Vergeltung ausüben, weil wir mörderische Jugendliche auf den Wegen haben. "Nephew" hat seine Schuld immer zugegeben und tat das bis zu seinem Tod. Der Mann-Nachkomme, der seine Fehler mit seinem letzten Atem anerkennt, unterrichtete uns, dass es eine Lehre im Sterben gibt.

Ruhe dich aus "Nephew" , bis wir uns wieder treffen.

Frieden

Farley