Donnie Lee Roberts
RIP
"Donnie Lee Roberts, 41, became the 12th inmate to be put to death this year in the nation's most active capital punishment state. He was given a lethal injection for the killing of Vicki Bowen at her East Texas home.

"I'm really sorry. I never meant to cause you all so much pain," Roberts said to Bowen's father, who was seated in a chair close to the glass surrounding the death chamber. "I hope you can go on with your life.

"I loved your daughter. I hope to God he lets me see her in Heaven so I can apologize to her and see her and tell her."

Roberts took several deep breaths as the lethal drug began taking effect, then began snoring briefly. He was pronounced dead 23 minutes later at 6:39 p.m. CDT."

Execution by TEXAS
| | | | | | | | | |
| --- | --- | --- | --- | --- | --- | --- | --- | --- |
| 10/31/2012 | | Roberts | Donnie | 999487 | 02/09/1971 | W | 10/28/2004 | Polk |
DonnieRoberts@DeathRow-USA.com for a first contact if you like, please leave a postal address for a responds. Thank you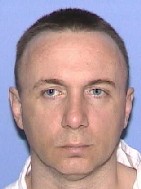 September 2006
Something About Me !

I am 35 years old. Born in Natchitochez, raised in Baton Rouge, Louisiana (cajun country) after being here for 23 months, I truely know what " Out of Sight, Out of Mind " means.

I am 6ft1 inches tall, brown hair, blue eyes, 235Ibs light and I am not a handsome man, but I believe honesty is the key to all friendship.

I write songs, poems and draw a little. I'm seeking someone who is open minded, willing to share their life and learn about mine. Age, race, or gender does not matter a friend can be found in anyone, if given a chance.

Just A Man,

"Wish Ya All The Best"

Donnie Lee Roberts Jr.
September 2006

Etwas über mich!

Ich bin 35 Jahre alt. Geboren in Natchitoche und aufgewachsen in Baton Rouge, Louisiana (Cajun country). Nachdem ich hier nun schon 23 Monate bin, kenne ich die Bedeutung von "aus den Augen – aus dem Sinn".

Ich bin 1,83 m groß, habe braunes Haar und blaue Augen, wiege 106 kg. Ich bin kein schöner Mann, aber ich glaube, dass Ehrlichkeit der Schlüssel zu jeder Freundschaft ist.

Ich schreibe Lieder, Gedichte und male ein wenig. Ich suche jemanden, der offen ist, sein Leben mit mir teilen möchte und mich näher kennen lernen möchte. Alter, Rasse oder Geschlecht spielt hierbei keine Rolle. Ein Freund kann man überall finden, wenn man es möchte.

Nur ein Mensch

"Wünsche Euch das Allerbeste"

Donnie Lee Roberts Jr.