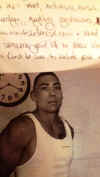 Billy Tracy
4 Oct. 2018
I've been sitting over this page for 20 minutes trying to think of what to write & my mind was a total blank. I absentmindedly ran my hand through my hair & several hairs fell onto the page … and then continued to fall…. Wonderful.
I never thought trying to meet some new friends would of caused that!
The fallen hairs reminded me of words to a song by a band I don't recall...
'Every new beginning comes from other beginnings end'....
If the demise of my hairs is ending that sparks the beginning of a new friendship I count that a very small price.
I am interested in: Art, Activism, music, sports, science, politics, exercise, history, psychology, neurology, anything mysterious, animals & BOOKS. For a peek at me you can go to www.minutesbeforesix.com & read an essay I wrote.
If I sound like someone you'd like to know I'm only a stamp away or you can e-mail me thru www.jpay.com (Just be sure to include your address I can't e-mail you back)
Sincerely
Billy Tracy